valign="top" align="left" xpos="44">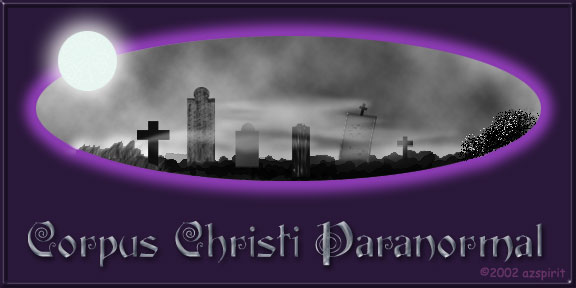 All pictures on this page and other pages are property of Corpus Christi Paranormal and Beckie Giron. No part of this website may be reproduced or utilized in any manor without written permissiom from Corpus Christi Paranormal. Use without express written permission is illegal.


---

Louisiana/Beaumont " Undisclosed Cemetery, Louisiana"
Report Prepared By: Beckie G.
Site Location:Undisclosed Cemetery , Louisiana
Contact for site: None
Date of Investigation: March 6, 2004.
Start Time: 11:30 p.m.
Stop Time: 11:55 p.m.
Investigators: Beckie G. - CCPG , Sabrina R. - South Texas Paranormal

Introduction & History:

TO COME SOON

Equipment Used:

Fugi Fine Pix A303 Digital Camera
Olympus 35 mm camera
Olympus digital camera
Gateway 4.0 Megapixel
Sony digital camera

Weather Conditions: Dry w/ light breeze. Low Humidity. Temp 78
Geomagnetic Field: Storm
Solar X-ray: Active


Physical Investigation:

Analysis of Photos:

Preliminary findings show possible daytime activity as well as possible apparrition appearances.

Summary & Conclusions: Preliminary results warrant second investigation.

::click photos below for larger view::




Poss apparrition above gravestone. Is it posing for us?

Possible apparritions.

Possible girl apparrition on left and male apparrition on right. Photo by Beckie

Lots of activity.

This person wasn't in the cemetery when we were there. Perhaps a ghostly person visiting a loved one?

Two ghostly figures along the fence.