valign="top" align="left" xpos="44">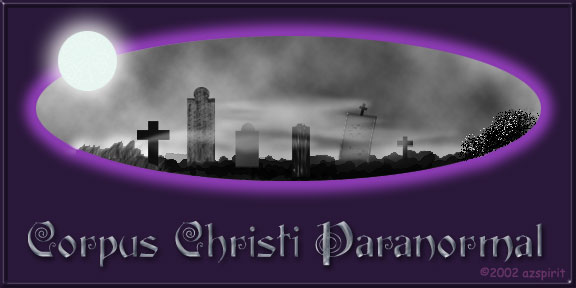 ---
All pictures on this page and other pages are property of Corpus Christi Paranormal and Beckie Giron. No part of this website may be reproduced or utilized in any manor without written permissiom from Corpus Christi Paranormal. Use without express written permission is illegal.


---

Louisiana/Beaumont " Undisclosed Cemeteries 1 "
Report Prepared By: Beckie G.
Site Location:Undislcosed Cemeteries 1
Contact for site: None
Date of Investigation: March 2004.
Investigators: Beckie G.- CCPG , Sabrina R. - South Texas Paranormal

Introduction & History:

TO COME SOON

Equipment Used:

Fugi Fine Pix A303 Digital Camera
Olympus 35 mm camera
Olympus digital camera
Sony digital camera

Weather Conditions: not available
Geomagnetic Field: N/A
Solar X-ray: N/A


Physical Investigation:

Various photos from undisclosed places in the Tx/Louisiana Areas

Analysis of Photos:

Summary & Conclusions:

::click photos below for larger view::




Crypt with orbs.Photo by Beckie

Ecto within this tree. Photo by Beckie

Second pic with tree ecto and orb. Photo by Beckie

Headstone and orb.

Beautiful headstone with orb. Photo by Beckie

Orb Tree

Seems like a little person is among the graves here. Perhaps an infant?

Look in the circles, the object on the left was not there when the picture was taken.